LI Webinar: Landscape & Woodland Design: Integrated woodland design
What is the role for landscape architecture in woodland creation? This webinar will summarise the UK Forestry Standard (UKFS) landscape and forests requirements and practice guidelines. We will discuss integrated design and how to work in a holistic way by considering landscape context and by putting woodland design principles into practice. We will explore a case study of how a Landscape Character Appraisal delivered a woodland creation scheme with multiple benefits.
Learning outcomes:
Awareness of the UK Forestry Standard Landscape & Forests requirements

Awareness of the UKFS seven Woodland Design Principles

Awareness of the Forestry Commission Woodland Design Process.
This webinar is accepted as part of the Continuing Professional Development (CPD) required to be completed by LI members. The LI Code of Practice requires members to undertake a minimum of 25 hours of CPD activity each year.
The Competency Framework reflects the common skills that the landscape profession as a whole need to deliver their professional advice to others. This webinar is aligned with our competency framework, in particular the competency of:
Arboriculture and woodland

Planning, legal, policy and regulatory compliance
The LI provides a range of services to help its members stay up to date with the landscape profession.
These services include:
If you would like to find out more about the Landscape Institute or become a member, please visit our website https://www.landscapeinstitute.org/member-content/individual-membership/ for more information about membership benefits, eligibility criteria, fees, and the application process to become a member.
This webinar is free to view for LI Members. If you booked to watch this event and not a member or a Forestry member you can also view this webinar for free. To do this please email here.
Single Purchase £40.00
1 Year Subscription £120.00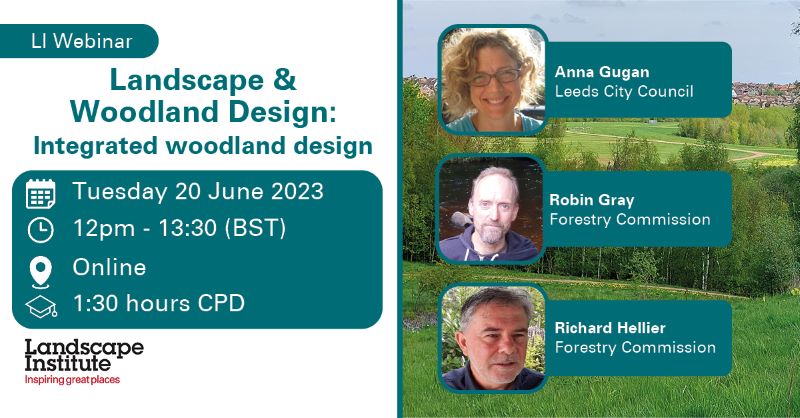 LI members survey results and forward plan

Watch

LI Webinar: Landscape & Woodland Design: Integrated woodland design

Preview