LI Webinar: Why are historic public parks and green spaces important?
Image credit: Historic England Archive
Series Overview:
In partnership with Historic England and Green Flag Award, the Landscape Institute (LI)  hosted a webinar series about the design, management, and maintenance of historic public green spaces. The three webinars explored our public park and green space heritage and its green infrastructure role; restoration, stewardship, collaboration, and future-proofing.
This Session:
The first webinar looked at our historic public parks and green spaces' heritage and its significance. Discussions delved into conservation principles and practice; addressing the needs of community's needs; new the role of new design.
Award-winning LI registered practices, LUC and HTA presented case studies on their conservation projects, providing insights into how they appraise what's special and work with partners and the community to shape how to restore sites.
Hosted by Historic England, speakers will include representatives from LUC, HTA & The National Lottery Heritage Fund.
Learning outcomes:
Understanding parks management – Introduction to the importance of historic urban green spaces and their many roles (ecological, economic, socio-cultural and heritage) and their wider strategic and functional roles as well as site specific management issues; and balancing of political, societal and environmental needs with the resources available.

Understanding physical and social context of sites/places/landscapes – Accounting for heritage and assessing the distinctive, characteristic and functional qualities of component parts and the whole, community interests including health and wellbeing.

Understanding planning, legal, policy and regulatory compliance – Introduction to statutory and non-statutory historic environment designations and other considerations in historic public parks.
Please note, these Learning outcomes are linked to the LI Competency Framework and are level D understanding. LI Competency Framework.
Free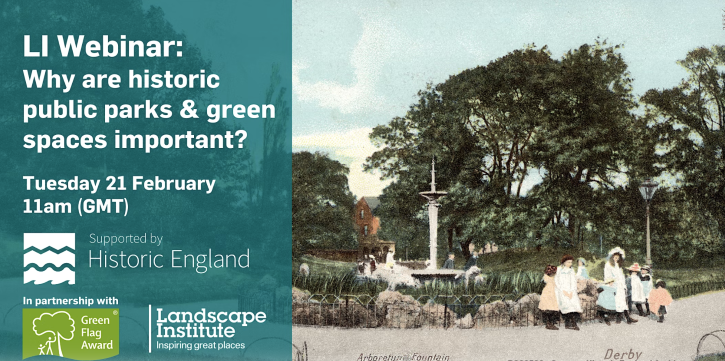 LI members survey results and forward plan

Watch

LI Webinar: Landscape & Woodland Design: Integrated woodland design

Preview